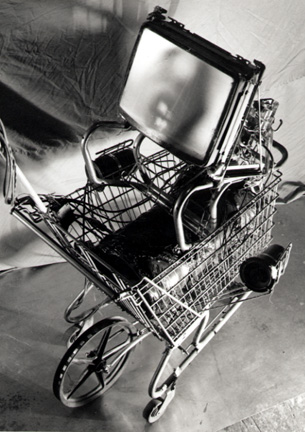 Interactive Video Installation
Barney W. Haynes, USA 1992
The theme for the installation TALES FROM THE CHOPPING CART is the consumption of images. Set within the context of an abandoned store, shelves stand empty littered with a few stray items. Moving through the aisles is the interactive shopping cart. In the corners of the installation, floating in over turned refrigerators filled with water are flickering television tubes which illuminate the room.
Chopping Cart
The Chopping Cart features a monitor elevated on an armature which is bolted to the basket of the cart. The "consumer" or audience pushes the shopping cart though the installation searching for bar codes. Each bar code represents a chapter of images on the video disc. Once the "consumer" selects a bar code with the bar code reader a series of images appear on the shopping carts monitor. The images have a physical and thematic relationship with the scattered items on the empty shelves.
The consumption of images occurs by manipulating the speed and direction of the cart. By moving the cart slowly the video disc plays slowly, by pulling the cart backwards the video disc plays backwards. The video disc player's ability to change speeds without glitches creates a seamless extension of the cart's motion. A physical alignment is established between the choing motion of the "consumer," image, and shopping cart within the installation.
exhibitions:
Video Tape
"Mill Valley Film Festival" Mill Valley California, 1997
"Noise" Pacific Film Archive. Berkeley, California, 1995
"Mashinenen Strume" Kampnagel, Hamburg, Germany, 1994.
"Serious Chiller Lounge" Muffethalle, Munich, Germany, 1994.
"Enter" Isefabrik, Hannover, Germany, 1994.
"European Media Arts Festival", Osnabruck, Germany. 1993.
"San Francisco Festival" V2 Organization, Den Bosch, Netherlands, 1992.
"Operation Amorphous" Copenhagen, Denmark, 1992.